License Plate Recognition
What is License Plate Recognition?

License Plate Recognition or "LPR" IP Cameras have become a MUST and a Truly Amazing Innovation in Technology for the CCTV Security Camera Industry!  
For many years CCTV Security Camera Footage would only capture "Overview" Footage of a Crime taking place such as basic identification of a vehicle's Make, Model or even Color. Yet, now with today's Modern-Day Technology that is available to us, you can now Capture, Database & Catalog ALL License Plates that enter or exit a facility with up to 4K ULTRA HD Video Quality and Accuracy in both Day and Night Applications! You can also create Real-Time Video Alerts of when a certain vehicle is entering or exiting a facility. You can also now implement detailed and accurate License Plate Searches in your NVR's Database by using the correct Model of an a (LPR) IP Camera! 
Professional and Commerical Grade Manufacturers such as Axis Communications, Digital Watchdog, Hikvision, Turing and Vivotek all offer TRUE "LPR" License Plate Recognition IP Cameras that deliver Real Time Solutions that you can count on!
With todays, TRUE "LPR" License Plate Recognition Technology you will be able to Catalog License Plates with detailed ULTRA HD Quality Thumbnail images and when clicked on playback a beautiful ULTRA HD Video Footage of the vehicle captured. You can also receive real-time alerts on your smart phone when a certain vehicle with a specific License Plate enters or exits your facility. These intuitive and intelligent features are all due to the AI and Video Analytics built into the Modern-Day License Plate Recognition IP Cameras!
License Plate Recognition IP Cameras now contain Advanced Features such as: 
Catalog & Database ALL License Plates Entering or Exiting a Facility
Search by License Plate Number Feature

Real-Time Text Alerts on your Smartphone of certain License Plates

Video Analytics for Tracking certain License Plate Numbers
AI Intelligent Feature to Track & Disregard specific License Plates
Especially, in critical times where surveillance footage is vital to solving crimes such as theft, burglary, physical assaults, vandalism, trespassing and even murder are applications where "LPR" License Plate Recognition IP Security Cameras are a necessary must to have implemented at your facility, place of business or organization!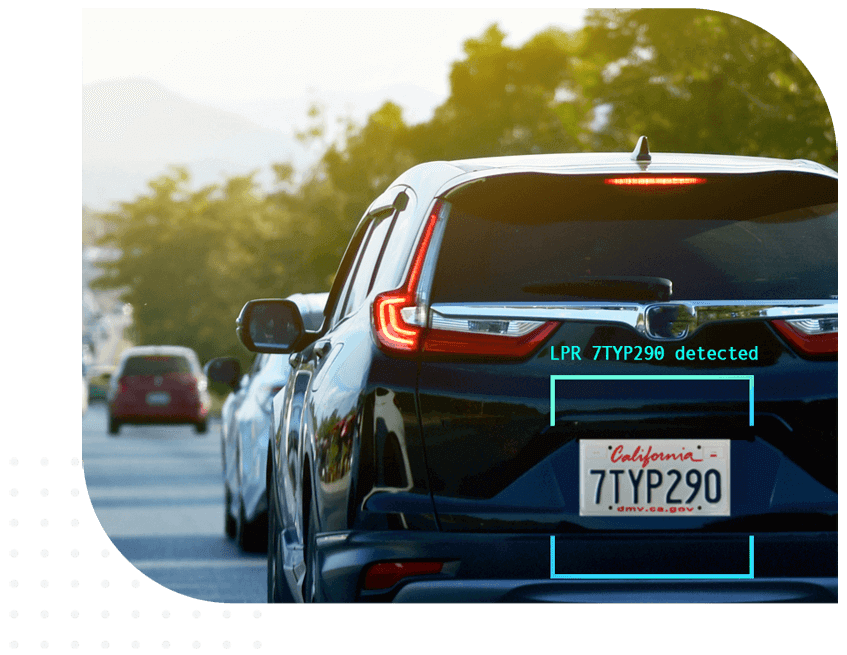 License Plate Recognition

Before purchasing a Professional Grade "LPR" License Plate Recognition IP Security Camera, please consult with one of our Sales Reps. to advice you on the ALL the different options and features available to you!
Our Trusted License Plate Recognition Brands

Why Choose Hi-Tech Security


In Business for over 18 years

State Licensed & Insured

Certified
Low Voltage Electrical Contractors

Authorized Dealers of ALL Major Brands!

Lifetime Technical Support

We follow ALL NEC Industry Standards